New Zealand

November 19th, 2001
"If they say you're going, don't believe them. If they say you're not going, don't believe them."
- Advice to the first time Antarctic traveler from Kristan Sabbatini, staff writer for the Antarctic Sun
The hour flight to LAX was packed and uneventful. The international terminal at LAX was empty. Tony and I stopped for beers and quesidillas. The 13 hour flight from LAX to Auckland, NZ., was absolutely filled and very bumpy. First time in 20+ years of flying I've had coffee slosh out of the cup and felt the seatbelt hold me down while the plane plummeted. Strangely enough, even with items flying from the service carts the Qantas staff did not sit down. The seatbelt sign was extinguished the moment the wheels left the runway at LAX and didn't go on again until 2 minutes before touchdown.
The Ausssies are a rugged bunch. Apparently, Qantas and it's staff aren't concerned about sudden weightlessness. For once I was flying with people who weren't whimps about sudden 5000 foot changes in altitude.
In Auckland they had free coffee and tea as a welcoming gift to visitors. Spilled half of it in line at customs.The customs beagle smelled my bags to make sure there was no food in them and I almost called her "Sally", which is the name of my brother's beagle who spends all her time sniffing for food when she's at my house. This is a nation of the most polite, reserved people on earth. They also play a game of football that requires a player to withstand a full on kick to the skull with a spiked boot. This is called "Australian rules football" to distinguish it from military action with live ammo.
Auckland to Christchurch. Another hour flight. I sat plastered to the window. The south pacific is gorgeous, and New Zealand is spectacular. In one glance you can see brilliant blue water crashing against beaches and snow capped mountains surrounded by idyllic green fields. We landed, collected baggage and met the friendly NSF lady who gave us the info about what we were supposed to do and not do. It's pretty clear I shouldn't be bringing recreational explosives to Antarctica. I've been told that in several documents and illustrative displays. I get the picture. No hydrochloric acid, either.
All right, already. Can I bring my socks? What if they're dirty?
Tony and I are at the Devon B&B in Christchurch. The Devon is a lovely little place close to the center of town. The owner, Sandy, greeted Tony like a long lost son, and was equally wonderful to me. She is glued in to the Antarctic deployment process and gives us our status on a regular basis. "You're on for tomorrow," she says once. Then, "You're not on anymore." Then, "Hey why don't you go to the hot springs?"
There are other "ice people" here. People going to and from Antarctica are "ice people". I don't feel like an ice person yet as I haven't been down there. Maybe I'm an ice person in training. Maybe I'm still slush.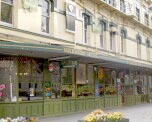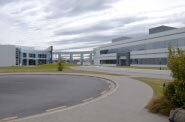 Up close, New Zealand, looks like a lot of other places. Suburbia looks like a cross between rural New Jersey and San Jose, California. Tony says it looks like England, which I feel also looks like New Jersey in the countryside. Any New Zealander traversing the Garden State would feel at home with the single exception you can't get a meat pie every two miles or so.
After checking in we walked around Christchurch and made an obligatory stop at Bailieys. It was only 11AM but the beer was flowing. Tony assured me we'd get discounts if they knew we were going to the ice. The bar was decorated in Antarctic memorabilia--charts signed by expedition members, pictures of Byrd, Shackelton, and Scott. Giant wooden emblems depicting the seals of the NSF, the USAP, the military air groups that service McMurdo, the IGY hang from the walls. We sat in the Robert Scott room and quaffed our native New Zealand brew.
Then we were off to the CDC--the USAPs clothing distribution--center to get fitted for our ECWs--Emergency Cold Weather gear.
This is the Antarctic center as viewed from the CDC. NSF offices are to the right and the visitor center is to the left. Behind me is the travel office and the New Zealand Antarctic facilility, which appears to be about 1/2 the size of the US program's offices. There's also a US post office here.
My experience was the same as everyone else's you might read on the internet, but I'll say it again because I have the pictures and need to put them somewhere. As you go into the CDC you see a wall of clothes. Nobody really looks at this wall of clothes, but it's there primarily so when they say the word "balaclava" you have a reference as to what one looks like and you know that if you don't have one when the wind is blowing 70 miles per hour your neck will freeze and your head will break off. In fact, you stand in the big room with the wall o' clothes and they show you a video of previous USAP participants being blown to bits by the Antarctic elements. This only increases the adventurer's desire to get there, of course.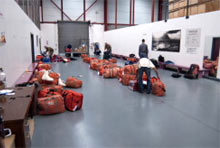 Then you enter a room full of big orange bags.
Two of the orange bags of them have your name on it. One is for stowing away (checked luggage) and the other is your carry-on. These are the only things you can bring to Antarctica with you, unless you're a scientist, in which case you cajole the administration to let you bring the stuff you need to do your experiments. As for me, I'll only be bringing my orange bags. The orange bags are full of clothes. You dump out the clothes and try them on, just as if you were preparing for the Antarctic wastes. Of course, it's 70 degrees inside the CDC so by the time you get everything on you're fairly toasty. If stuff doesn't fit you, you trade it in for stuff that does. Then you cull out anything you feel you won't need. For instance, they issue you about 8 pairs of gloves and mittens of a variety of styles. Lots of these are the style you need if you're going to be refueling airplanes or driving caterpillar tractors. As I would be dangerous to the population behind the controls of a D4 bulldozer, I turned in the tractor driver gloves back. Tony helped me decide what to return. I can only hope at this point I don't wind up having to drive a front end loader to dig Tony out of an avalanche.
After your finished selecting your clothes you stuff what you have back into the bags. There's a big list of items that HAVE to go into your carry-on bag. When you show up for your flight you put those clothes on and your street clothes into your carry-on. You have to take the flight wearing a full compliment of ECWs just in case the plane crashes and you survive and the burning wreckage isn't enough to keep you warm.
Note: they made a point of begging us not to rip the cool USAP patch from the parkas and wind clothes. They promised to give us one when we get back to CHCH after our stay on the ice.
And there's Texas A&M Scientist Andy Klein stuffing his ECWs back into his bags. This will be Andy's third time to Antarctica. He's studying pollution in the run-off from McMurdo and other stations. He doesn't plan to drive a bulldozer while he's there, either. His patches are still firmly affixed to his ECWs. He probably has a few at home by now.


There are a few other things at the CDC. There's a travel arrangement center where you can get tickets changed/issued, a computer center for USAP people who want to get on the web (that's where this page and pictures have been posted from). And there's a visitor's center where you can see the world's greatest Antarctic exhibit. Here's proof.
If you go in here you can try on some old ECWs and stand in a refrigerator to see what it's like to wear warm clothes when its cold. Then you can go to a snack bar and have a meat pie or two. No kidding. I couldn't make up this stuff up if I worked for David Letterman.
When we showed up at the CDC on Sunday there was a passenger manifest on the wall. My name, and Tony's name was on it. We were supposed to be passengers on THIS US Air Force C-131 which is broken. Of course, you can't tell by looking at it. And so when we returned to the Devon Sandy had a message for Tony and I from Raytheon. Neither of us was leaving on Monday. Tuesday would be the earliest departure.
We weren't surprised. On our trips back and forth between the airport, the CDC, and the Devon B&B we'd been with other USAP participants. Some had boomeranged several times. Boomeranging is the bane of the Antarctic traveler. It is exactly this: the plane leaves Christchurch (designated CHCH on your luggage tags and pronounced "cheech" by everyone, including people who live here) and goes until it has barely enough fuel to make it back. They radio ahead to McMurdo station. If the guys at McMurdo say the weather is too bad to land, the plane turns around. When this happens you are in the air for 8 hours and wind up where you started.
Some guys had boomeranged three times last week. They still weren't in McMurdo after 24 hours sitting in the military transport plane. They were pretty unhappy.
Now what happened to us? Well, I'm writing this on Tuesday, 11/20/01, and I'm alone here in CHCH. Tony has gone on ahead. The problem is that so many flights had boomeranged there was buildup of Antarctic travelers in CHCH. People have been waiting to go for 4 days. Then the plane broke and other ones weren't flying, either. In addition--remember the Antarctic power module Tony and I built? Well, when we shipped it, it weighed 600 pounds in its crate. Somehow it grew. The USAP people say it accounts for 1062 pounds now, and that means a bunch of people had to be bumped from the flight to allow for the weight of the module, the crate, and whatever other goodies they had to add to it to package it for the flight.
I am a bumpee. I feel sorry for the other two or three people who have been bumped because of our box. This is the first time in my life I wish I weighed 1000 pounds.
Tony has a meeting at McMurdo station tomorrow, Wednesday. The USAP bumped someone off today's (Tuesday's) flight to let Tony go to his meeting. As long as he doesn't boomerang, he'll make it.
I'm still here at the Devon. I'm scheduled to leave on 11/22, turkey day in the US, just another day here. Of course, when I leave here on Thursday it will only be Wednesday in the states. And I'll have Thanksgiving on Saturday at McMurdo anyway--as long as I don't boomerang.
Stay tuned.