The Wine Bar at the End of the World

November 24th, 2001
"People ask me to write about the history but that's been written about a hundred times before. What about what's going on here now? What about that?"
- Kristan Sabbatini, writer/editor for the Antarctic Sun
"Time of your life, kid."
- Bernie the killer pimp, from the movie "Risky Business"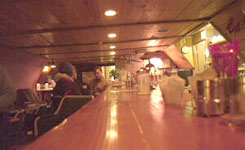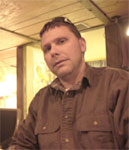 Are you in the captain's quarters in a ship? A trendy bistro in San Francisco? The guy pouring the pinot is ex-Navy. He tells you about his time in Borneo, Java, Cape Verde. There was nowhere on an inhabited continent he wanted to be so now he uncorks Californian wines and serves scientists. Truck drivers. CAT repair specialists.
I'm not sure what to make of this. I flew nearly 12,000 miles to be here and I'm sipping Cabernets rather than girding against frostbite. Inside there are no windows and it's the perpetual twilight a bartender needs to ply his trade. Every so often I think to myself I should drop my sunglasses back at my dorm room. Maybe I should pick up another layer of clothes because it will be night and cooler.
But every time we open the door to go outside it's 10 AM in the morning. The light is white and blue as if the sun is perpetually rising on a new spring morning. I have to keep my sunglasses close all the time. The temperature doesn't vary with the time of day, only with the comings and goings of the clouds.
A few nights ago I was at a "rave". The large machine shop was decorated in cargo parachutes and flashing lights. A smoke machine filled the room in musty fog and a booming bass blared from a 1000 watt system. It seemed I'd been transported back to Los Angeles or New York. People were dressed in loose fitting t-shirts and jeans, just like they do back home in California. There was dancing, drinking, and genuine healthy American misbehavior, except for the Kiwis who came over from Scott Base who enjoyed their own version.
I saw a young woman run from the machine shop to the dorms wearing nothing but a t-shirt, a mini-skirt, and hiking boots. It was about 20 degrees outside at the time and the wind was running about 30 mph.
What's with that?
Yesterday was Thanksgiving here. Everyone dressed up. Most people looked like they were going to a nice restaurant. Women in dresses and evening gowns. Men in slacks and ties. One guy even wore a white tuxedo.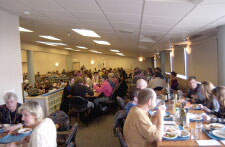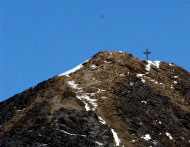 This picture is kind of small, but take a quick look. Notice anything unusual? Of course not. This could be any restaurant in the world. It could be a Denny's in Raleigh, North Carolina. It could be a Baker's Square in Phoenix, or Wolfie's in Miami.
Outside the windows to the right of the picture is nothing but ice and volcanic rock.
Dinner was wonderful. I had turkey with all the trimmings, salmon, veggies, and a variety of desserts fit for any major NY restaurant. Pumpkin pie.
Now I've done something a lot of people have never done. I've eaten pumpkin pie (with whipped cream) in Antarctica.
The coffee was good, too.
History is the history, I guess. Somewhere outside is Scott's hut. Fifty miles or so from here Scott, Wilson, and Bowers breathed their last on the ice shelf. Mawson nearly killed himself eating dog's livers. The Discovery and the Terra Nova wintered in sight of this dining hall.
That was then. This is now.
Nobody dies of scurvy anymore. We've conquered many childhood diseases. Been to the moon. Figured out how to put air conditioning in cars. The history has been archived and recounted time and time again. What about that history? What am I going to say about it that greater writers and greater minds haven't already said?
The history of Joe going to Antarctica includes giant asparagus in hollendaise sauce, 1999 Bordeaux, and great chocolate doughnuts for breakfast. It includes down parkas that keeps me so warm I sweat even when the wind is strong enough to push me backward. It includes meeting wonderful people, some of whom I've only known as e-mail bits. Andy Klein. Kristan and Mark Sabbatini. Melanie the staff photographer.
None of us is going to perish on the ice. We're going to eat well and live well and visit these remote areas without tempting grievous bodily injury.
Yesterday, after Thanksgiving dinner, I was in the wine bar talking to Tony and Andy. I mentioned I wanted to climb up Ob Hill at least once before I left here. Neither of them were very interested, having done it before and knowing better than I what was being suggested, and they replied they were heading for a sauna, but that I should go ahead. Right then.
It was 10:30PM. Usually I'm in bed sleeping by 10:30. Most places I know are dark by 10:30PM.
But outside it was 10:30AM, and the air was warming. As they headed for the sauna I started up the street and found my way to the base of Ob Hill. Two others were up there, but passed me as I made my ascent. Climbing Ob Hill is like climbing a steep set of stairs. It's 600 feet high, roughly, and you need to ascend those 600 feet in somewhere approximating a half a mile. There is a semblance of a trail--at least you can see where other people have made their way. That is, you can see it until you get close to the top. Then outcroppings of rock and gravel screes hide the beaten path. At the top is a wooden cross erected by Evans and the support crew commemorating the lives of Scott, Wilson, and Bowers.
I'm not a mountaineer, but it was easy enough to look upward and go there. When I got to the top I was the only person on the hill, and the only person I could see for as far as I could see. The sun ricocheted off the frozen sound and lit the Royal Society mountains in bright yellows. The top of Erebus was obscured in clouds but its snowy base was plain. Lenticular clouds dotted the peaks all around and the wind died enveloping me in an awesome and ancient silence.
Ob hill is not a remote peak, as mountains go. Hundreds, maybe thousands of people climb it every year. At that moment God may as well have created the world for me as he made it abundantly clear his landscape could absorb my life as thoroughly as it did Titus Oates and there wouldn't be left as much as a stain on the frozen sound.