Au Revoir, Dry Valleys

December 7th, 2001
"You guys are so lucky. Everybody wants to go to the dry valleys."
- Everyone in McMurdo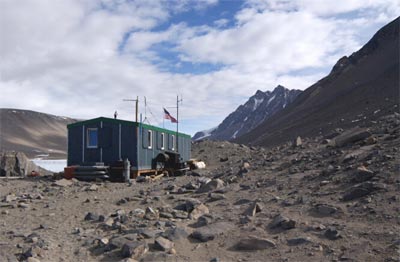 And thus, this too must pass. I was incredibly lucky. Our machine worked without a hitch. I even rewrote the access routines to take advantage of the new 10-baseT network connection they have so that the data goes directly from the box, to the Palm Pilot (via Rae) to the computer, to Tony's ftp server. We were peeing into bottles but we could order parts via the internet.
I learned about mullets. I learned I had one for about 3 years. It scared people, that's why I did it. That's my excuse.
Nicole painted my nails. Most dry valley guys have painted nails. No women do. I don't know why.
We climbed mountains.
Wrote code.
Diddled with the electronics and barbequed steaks.
Measured airborne particulates.
Proved that in eternal daylight everything can be powered via the sun.
Told jokes.
Danced to U2.
Learned about nematodes, wet and dry glaciers.
Watched bad movies on computer DVD players.
Thank you Rae, Thomas, Nichole, Jennifer, Lee, Shad, Chris, Bill, Craig, Dorota, Christine, Sabine, Jill, Tony. Thank you dry valley scientists. Thank you helicopter pilots. Thank you mountains and glaciers, sun that burned my cheeks, wind that made me so cold I couldn't stop peeing.
Even if I never get to come back I have done these things and they are now a part of me. From now on it doesn't matter how much money I have or if my Corvette runs at all.
No matter what happens to me forever, this will always be true: The hands that tie my shoes have touched the stones embedded in the Seuss glacier. The arms that hug my children have hauled glacier berries. From now on, every morning when I wake up and my feet hit the floor they are feet that have walked the valleys of Antarctica, and slid on the ice pools where we played glacier ball.